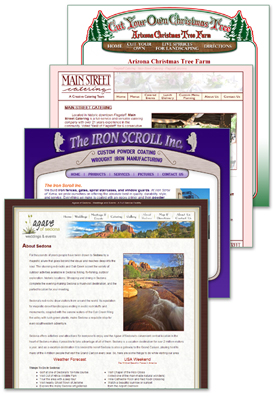 TrailsWeb Express
Small Business Website Design

Visit TrailsWeb's site created exclusively for Website Design for Phoenix, AZ Businesses!

A website is only as good as the people who make it. Each member of our team specializes in a specific aspect of site design, development, and marketing. The fusion of our skills and experience is what gives every TrailsWeb Express website its quality, character, and parallel with the client's objectives and vision.

For more about how we operate to create your site, visit the process page. The marketing page describes some of the things we'll do to create high website traffic and revenue-effectiveness for your business. On the details page you can find the specifics about our hosting and special limitations on the Express package prices.

The first thing we'll do is familiarize ourselves with your industry, your competition, and finally with the details of your small business and how you like to do things. With a meaningful understanding of how you operate, we can create a website which truly reflects the unique character of your company. For more about our programs, please visit the prices and details pages. You can also read more about TrailsWeb, browse our recently completed websites, or contact us.