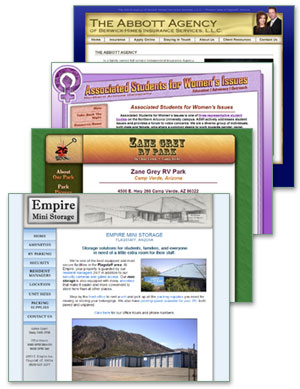 Process
How we make your site...

Our process ensures that each of our customers is catered to individually. We strive to seize every opportunity to customize, individualize, and personalize our services to your needs.


You tell us as much as you like about your business, if you like any of your colleagues' or competitors' websites, what results you're looking to get from the internet, etc.



We research your industry and competition, looking for the most popular search keywords and terms to ensure your website gets visited.



Once we're confident we know what we're up against and that we have a functional knowledge of your industry and your customer, we call you to discuss the specifics of the text for your site.



Our technical writer will take notes as you describe your business until she has a very good idea what you'd be likely to say to your customers. They'll create the page list and write the text for each of those webpages.



Next comes the graphic design. Our designer will call for your input on colors, shapes, and styles for the site's layout. They'll design the framework for the website, integrating your logos and other style cues.



You'll receive an email with a picture of the framework (the "proof"), headers and footers, and navigational components of the site. You can provide feedback on the appearance of the website if you would like anything changed to the way the site layout appears.



Once the proof is approved, our deigner will cut out the pieces of the layout and create an HTML version of the site. They'll design the pages according to the writer's direction and stylize the content. This may include adding stock photographs to the content where appropriate.



At this point your new small business website is a "Beta Version" and almost ready to go live. You'll be able to view your site online, reviewing the text, layout, and images for accuracy. Any additional images you want to provide can be emailed to service@trailswebexpress.com.



Armed with your list of changes, you can call and talk to your project contact. They'll make the edits to each of the webpages as you describe them and add any new photos you've emailed us.



After these changes are done, we'll published the site, register with the search engines and issue a press release about your new website to online media outlets.



After one or two months online, we should have some feedback from the search engines and we'll make adjustments to the site to improve the volume and quality of the traffic on your site.



We'll monitor the traffic on your website and provide a report of site usage and traffic statistics on a semi-annual basis. If you need anything, you are always welcome to call us and we'll make your changes promptly.



TrailsWeb Express - Web Site Development & Marketing for Small Business
Web Design Flagstaff & Phoenix, AZ